The Best Hog Roast Catering Service In Yorkshire
Here at Hog Roast Yorkshire we are proud to offer our hog roasting services and talented chefs across Yorkshire, providing our mouth-watering feasts for your next special occasion or event and a superior service. Whether you're looking for a wedding caterer in Skipton or a caterer for your next birthday party in Scarborough, you can be sure that Hog Roast Yorkshire will be here for all your catering needs.
Yorkshire may be the biggest country in the UK but here at Hog Roast Yorkshire, we aren't limited to where we can travel or what we can do. Our flexible approach to catering sees us travelling the length and breadth of Yorkshire on a daily basis to supply fabulous feasts for a diverse range of events and celebrations. We are able to cater in any type of location, from indoor city centre venues to rural outdoor environments whilst always delivering the high standard of food and service that we have become known for. We are also known as the best hog roast company in Yorkshire thanks to the high quality of our ethically reared pork and our collective expertise in preparing it. Our chefs and our cooking equipment are the best in the business, which enables us to provide such high quality food in any type of venue for any size and type of event.
Hog Roast Yorkshire have already provided Hog Roasts all around Yorkshire, from large to small parties and informal family gatherings to formal corporate events. The areas we cover, but not limited to include;
If we haven't mentioned your town already, then just give us a call and we will do our best to make sure we can get our finest food to your location!
Yorkshire's Number One Catering Company
Hog Roast Yorkshire's flexibility isn't the only factor that enables us to cater for such a wide array of events all over Yorkshire. We also have an extensive range of varied menus that cater for all tastes, diets, budgets and occasions. If you would prefer an alternative to our premium pork or a second meat option, you can choose from a mouth-watering selection of other slow roasted meats including free range chicken, succulent sirloin of beef and tender spring lamb, to name but a few. We don't just cater for meat lovers either – we release that contemporary catering needs to accommodate different dietary needs which is why we invest a lot of time and effort into designing and preparing tempting vegetarian and vegan alternatives across all of our buffet and 3 course meal menus. We can adapt any dish on our menus to cater for individual needs – all you need to do is let us know your guests' requirements and we will take care of everything for you to ensure they are well-fed and have a great time.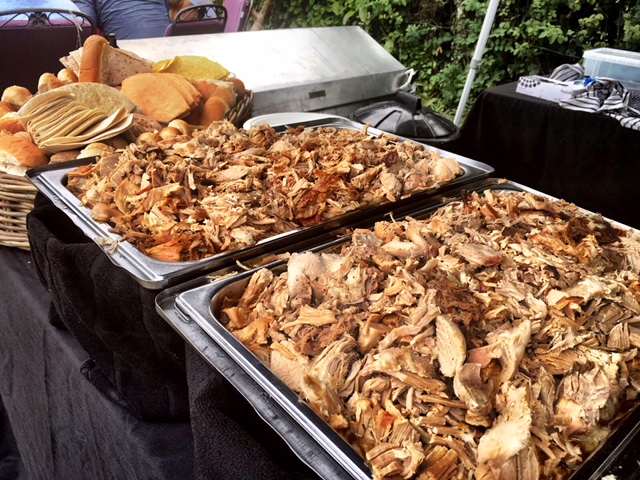 Whether you are looking for catering for your wedding reception, birthday celebration, office party or one of Yorkshire's many markets or local festivals, we will have your ideal menu, which will be freshly made on-site and served to you in the style that suits the nature of your event. Our sociable self service buffets are great for more relaxed occasions and our sophisticated 3 course meals with the option of a canape welcome reception and full table service are a great option for more formal celebrations.
If you are looking for a catering company that offers menus that are as varied as the county of Yorkshire itself, and you would love to have restaurant-standard food in any type of venue, the Hog Roast Yorkshire team are the catering company who can make all of your wishes come true.